Residue has all the potentials of a great sci-fi/mystery series, although there is much room for improvement. The casting is impeccable with Natalia Tena and Iwan Rheon as the leads who, in spite of their radically opposite roles in Game of Thrones, have great chemistry on the screen.
Tena plays Jennifer, a professional photographer working on a series on people affected by the great December 31st explosion that blew up in the city center. A year later, the whole neighborhood, now abandoned and quarantined for potentials chemical aftereffects, remains as much of a mystery to the inhabitants of the unnamed big city (the series was filmed in Gloucester) as to the viewer: why did it explodes? What is the government really doing behind the heavy military guarding the quarantine zone? Why are buildings still standing, apparently untouched? (but seriously, what kind of explosion was that??). As Jennifer and her boyfriend, Jonas (Rheon)–whom you cannot quite unsee as Ramsay–who works in the Home Office, investigates and discover the dark secrets the government is trying to hide, mysterious black shadows dangerously plague the citizens of the city.
On top of an interesting premise, Residue has truly magnificent, if a little repetitive, aesthetics and shots. The entire series is composed in spectrums of gray, green, and red which make for stunning shots of desolate urbanism and dark Chinatown settings–in fact the series flirts a little too closely with racist representations of "Asian" cultures as seen in Blade Runner–or every other cyberpunk movie, really–that dig the Orientalist look but not quite actual Asian people (spoiler alert: this show is very white). Nevertheless, I really liked the show's photography, but as a commenter on the Netflix page said, you will probably only like it if you're, like me, guiltily enjoying hipster Tumblr aesthetic blogs (but jokes aside who DOESN'T like those?).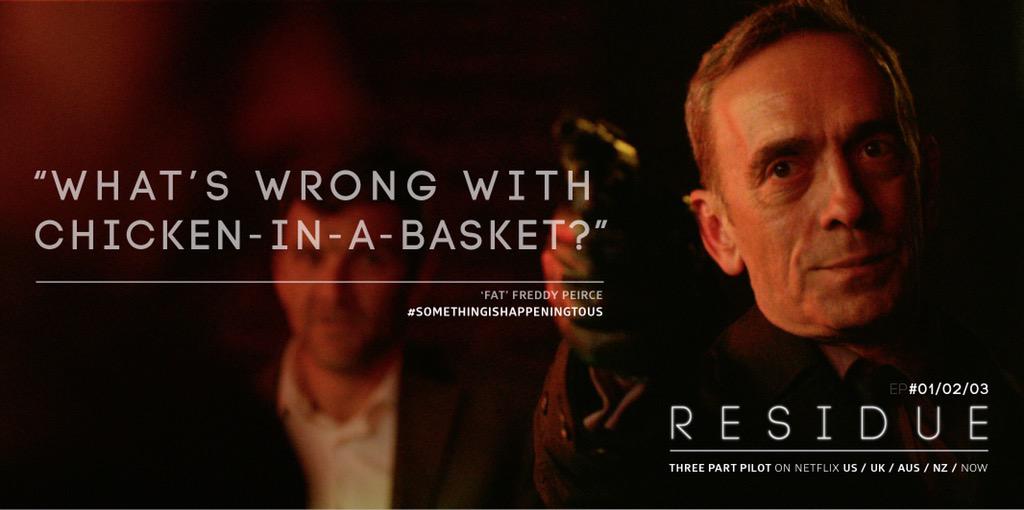 The problem with Residue is that there isn't much else besides great actors and super cool aesthetics: the narrative develops extremely slowly and the dialogue is at times difficult to swallow. I have to admit that I didn't realize this was a three-episode long season intended to be seen as an extended pilot. So I continued watching it thinking the plot would eventually pick up; if I'd known I was watching three hours of "pilot" I would have certainly stopped and rewatched Buffy or something. If the first episode did make me excited because of its originality and intrigue, the next two added nothing to the mystery besides confusion as to the characters' motives and frank disbelief at certain scenes. By the end of the third episode I didn't find myself particularly looking forward to see more, although I did love Tena's character, who seems to take no shit from anyone.
Overall I'm not entirely abandoning this show because I do love the actors/characters and I do believe that the story could go somewhere with a little boost in the writers' room and a quicker pace BUT if the show does continue–and from the Netflix commenters nothing is more uncertain–it'll have much to do to convince me that this is not just another residue of a good idea (eh? eh? Anyone?).